Part of Volkswagen Group UK
Supplying Genuine Volkswagen Group Parts to the trade since 2006
Consumables Hub
Select the area you would like to learn more about.

Batteries
In this section, we are focusing on batteries for traditional internal combustion engine (ICE) vehicles. Electric vehicles use a different type of battery altogether.
Why do you need a Battery
The simple answer is to start the engine and power accessories.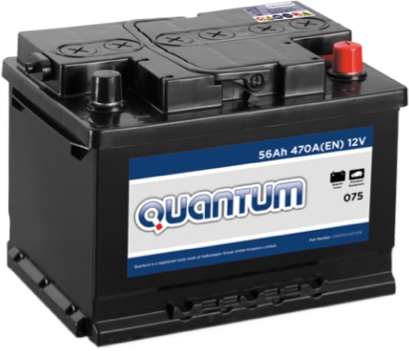 Once the battery has done its job and the engine is running, the alternator charges the battery. This is how the battery will always have charge (unless your vehicle has an issue).
Generally, starting a vehicle will use less than three percent of an automotive battery's capacity. This is why they're designed to deliver maximum current for short periods of time.
Generally speaking, batteries are not designed for deep discharging and a full discharge will often reduce a battery's lifespan.
The battery also supplies the power necessary when the vehicle's electrical requirements exceed the supply from the charging system. As well as this, the vehicle's battery also acts as a stabiliser, balancing out potentially damaging voltage spikes.
Fact
While the engine is running, most of the power is provided not by the battery but by the vehicle's alternator. The alternator includes a voltage regulator to keep the output between 13.5V and 14.5V.
DIFFERENT TYPES OF BATTERIES
1 /04

2 /04

3 /04

4 /04

Absorbent Glass Mat (AGM) batteries, are engineered to meet the growing extreme power demands of new vehicles. The absorbent glass mat absorbs the battery's acid, enabling more efficient use of the cell's volume, without the need for electrolyte reservoirs that are required with conventional flooded batteries.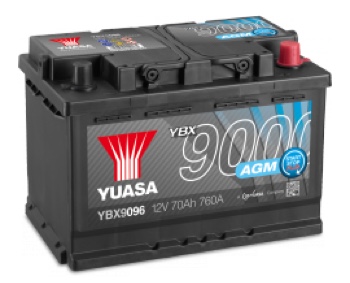 The AGM battery gives a number of benefits:
The one-way venting system provides partial pressure release in each cell, ensuring 100% leak-proof and safe handling
The acid absorption of the glass mat means the battery packs can be operated under higher pressures than conventional flooded batteries – this minimises paste shedding and so helps to prolong battery cycle durability.
Increased resistance to vibration
More reaction surface area – ensuring higher starting capacity than conventional flooded batteries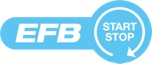 Advanced Flooded Batteries (EFB) offer a cost-effective solution for entry-level Start-Stop vehicles. They are also well-suited for demanding applications that require a deep discharge (such as police vehicles) as EFBs offer improved cyclic durability when compared to premium wet-flooded batteries.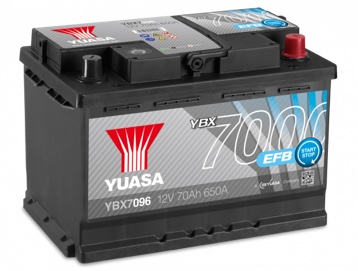 The EFB battery gives a number of benefits:
Increased dynamic charge current acceptance over standard wet-flooded batteries
Increased cyclic durability over standard wet-flooded batteries
Sealed Tip/Tilt lid, with integrated flame arrestor
Previous
Next
MORE DETAIL ON BATTERIES
The simple answer is to start your engine and power accessories.
The life of a every battery has a limit, and although running the engine delivers charge into the battery, over the years it will eventually need to be replaced.
Here are a few key points worth knowing:
All vehicle batteries sold in the UK are required to be sealed to ensure that no acid is freely accessible
Being sealed means they cannot be serviced, so when they start to fail, they need to be replaced
Vehicle batteries are made up of 6 galvanic cells oriented in a series layout. Each cell provides 2.1 volts, creating a total output of about 12.6 volts at full charge
Vehicle batteries have a very short charge cycle (the time for the battery to charge and then discharge)
Range Overview
Yuasa YBX and Quantum batteries deliver reliability, long life and superior performance. More than that, they feature specially-developed internal components, unique design features and industry-leading technologies all designed to combat the causes of battery failure.
All batteries featured here are available from our nationwide network of TPS Centres.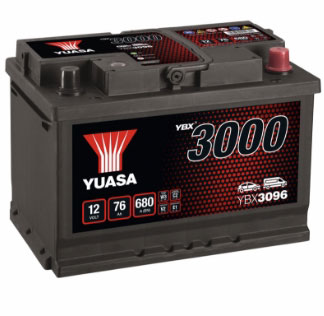 YUASA - YBX® 3000 SERIES
Up to 30,000 engine starts
For vehicles with standard power demands
Extra plates for higher starting power
Rollover-proof lid – for extra safety
28 batteries available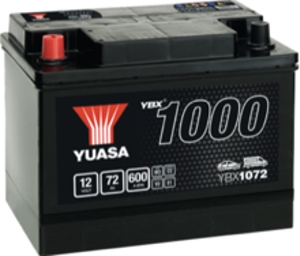 YUASA - YBX® 1000 SERIES
Up to 20,000 engine starts
For vehicles with basicc power demands
3 batteries available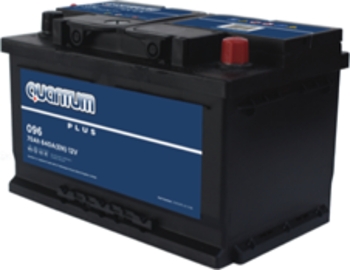 QUANTUM PLUS - YUASA
Up to 20,000 engine starts
Integrated carrying handle and flame arrestor
Calcium/Calcium plates
Sealed Tip/Tilt double lid
5 batteries available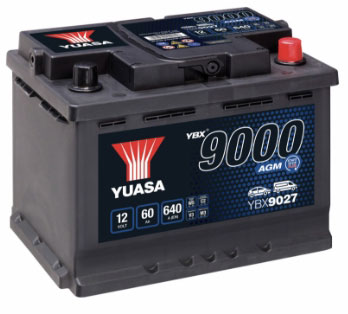 YUASA - YBX® 9000 SERIES
Up to 360,000 engine starts
Designed and engineerred for vehicles with advanced technology such as Start-Stop, regenerative braking and energy recovery
Helps with fuel consumption and lower emissions
Maximum safety – with spill-proof construction and no free acid
5 batteries available
Note: If a vehicle is fitted with an AGM Start-Stop battery then the replacement must also be AGM Start-Stop. The same also applies to EFB products.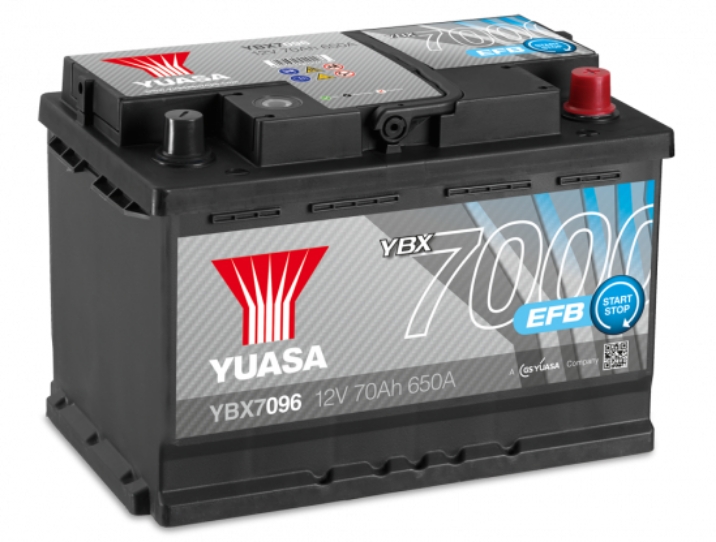 YUASA - YBX® 7000 SERIES
Up to 270,000 engine starts
Designed and engineered for vehicles with advanced technology such as Stop/Start
Lithium carbon additive – for improved charge acceptance and performance
Helps with fuel consumption and lower emissions
The recommended choice for standard ignition vehicles that make lots of regular short journeys (such as taxis and delivery vehicles)
3 batteries available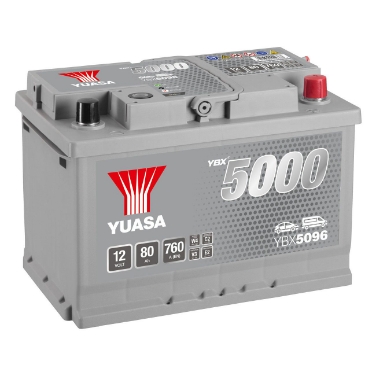 YUASA - YBX® 5000 SERIES
Up to 50,000 engine starts
For vehicles with high power demands
Maximum plates – for superior starting power
Rollover-proof lid – for extra safety
Ideal for cold weather climates
Premium choice for superior power and performance
10 batteries available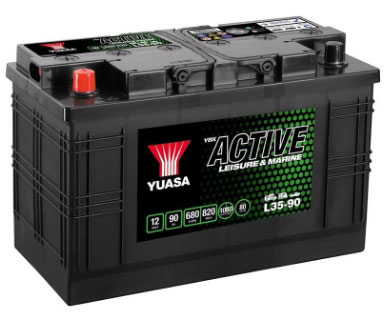 YUASA - YBX® ACTIVE LEISURE & MARINE
Optimised for repeated charging and discharging
Original equipment quality and specification
Fully maintenance-free
NCC verified
Enhanced safety features
3 batteries available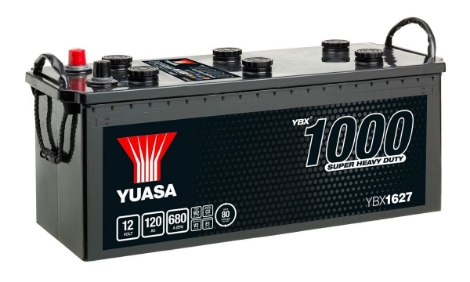 YUASA - BX® ACTIVE SUPER HEAVY DUTY COMMERCIAL VEHICLE
Original equipment (OE) quality, performance and specification
Specially designed and constructed for the rigours of commercial, agricultural and plant vehicle applications
Enhanced safety features, including integrated flame arrestor and carrying handles
Maintenance-free with easy access lid plugs for topping up (if required)
Up to E2 Endurance rating
High vibration resistance
5 batteries available
STOP/START TECHNOLOGY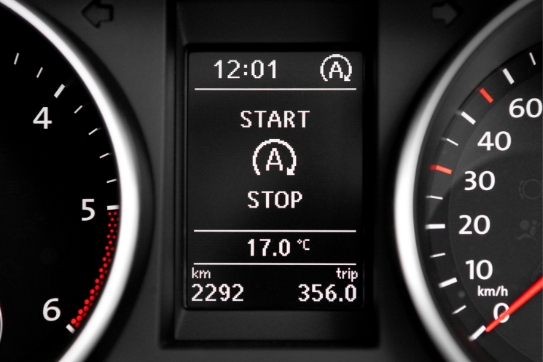 As well as powering a vehicle's accessories, the main job of a battery is to supply the initial burst of power that starts the engine. Once the engine is running, the alternator charges the battery, keeping its power topped up.
Obviously, the batteries used in vehicles with Stop/Start technology are specifically designed to meet the particular demands caused by frequent stopping and starting. These batteries are exclusively EFB and AGM batteries.
The constant stopping and starting of a vehicle would result in deep discharge with an old-style traditional automotive battery. This is because conventional batteries have a limited capacity for re-starts (between 20,000 – 50,000). EFB and AGM batteries are designed to handle significantly higher volumes of restarts (between 270,000 – 360,000) without producing damage to the battery.
So, if a vehicle is fitted with an AGM Stop/Start battery, then replacement batteries must also be AGM Stop/Start. The same rule also applies to EFB batteries.
GS YUASA ACADEMY
The first dedicated online battery training platform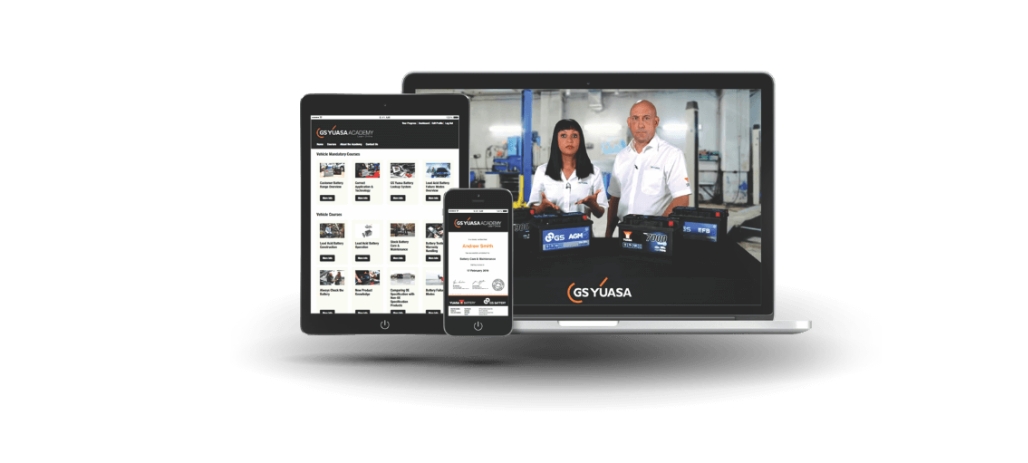 Created specifically for delivering professional battery training and recognised certification, the GS Yuasa Academy is a cutting-edge online learning platform.
Visit the GS Yuasa Academy and you'll find easy access to a wealth of career-building information and tailored learning created to benefit all kinds of job roles.
Over 20 detailed training courses
More than 100 dynamic videos
Downloadable certificates
With GS Yuasa Academy everyone has the opportunity to learn at their own pace. Wherever they are. Whenever they're ready to study.
Contact your local TPS Centre about how your business can take advantage of this quality training opportunity.

BATTERY STORAGE AND MAINTENANCE
Did you know
Storing batteries incorrectly for a long period can seriously compromise them.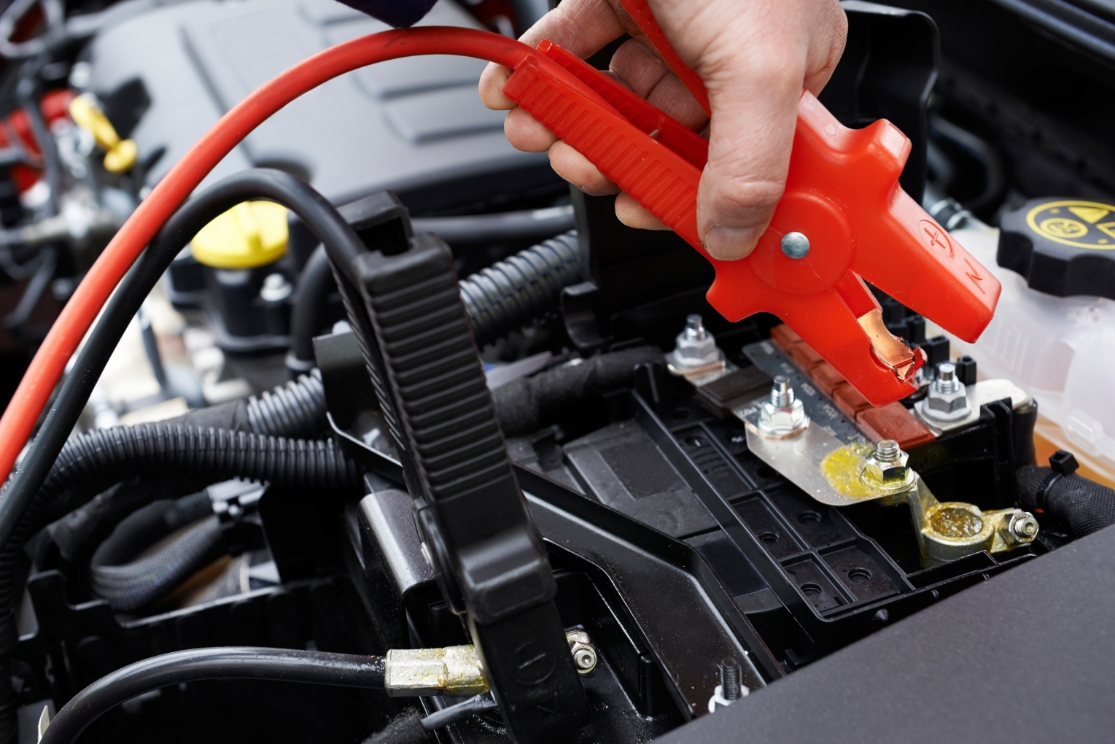 CHARGE AT REGULAR INTERVALS
Batteries should be charged using a charger compatible with the specification and technology of the battery. This is because AGM batteries require a different charging profile to EFB or conventional flooded batteries.
To ensure efficient timely charging, the output of the charger should be a minimum of 10% of the rated Ah capacity of the battery. If the charger is being left on the battery, then the charger must feature a pulse mode. Pulse mode begins when the battery is fully charged, the charger monitors the battery and only applies a top-up charge when the battery requires it (based on measured voltage) and then switches off and returns to monitoring mode.
PREVENTING CORROSION
Terminal corrosion is not rust and it can be carefully removed using a wire brush until the terminals are shiny. This will enable a good connection to the vehicle – providing the cable clamps are also clean. The connection to the vehicle needs to be clean and dry and terminal grease should only be applied once the connection to the vehicle has been made.
SAFE BATTERY STORAGE CHECKLIST
When a battery is manufactured and charged for the first time the chemical reaction used to supply electrical energy is started.
Once it has begun this reaction cannot be stopped. This means that the battery is always releasing electrical energy (self-discharging). The rate of battery self-discharge and deterioration over time is dependent on the storage conditions.
STICK TO A CHECKING SCHEDULE
Battery voltage checking schedules should be adapted to seasonal conditions to take into consideration variations in ambient temperature and battery self-discharge rates. The voltage of every stock battery should be checked with a digital multi-meter monthly during the winter period and bi-weekly during the warm summer months.
Batteries that have self-discharged to 12.50 Volts or below should be recharged immediately before being put back into stock.
If the level of charge falls to 12.40 Volts and below, internal damage can occur that cannot be reversed by recharging. It's therefore essential that stock batteries are regularly checked and maintained above 12.50 Volts with charging.
STORAGE TEMPERATURE
As the temperature of a battery increases so does the rate of self-discharge. At 10°C the self-discharge rate is approximately 0.1 Volts per month. This increases to 0.2 Volts per month at 20°C. Therefore, batteries will self-discharge at a faster rate during the warm Summer months. This means that after a few months in storage the battery has deteriorated significantly.
Store all batteries in a cool, dry and well-ventilated area, off the floor in an upright position with the carrying handles flat down. Protect batteries from excessive heat as this causes battery damage and a more rapid loss of charge.
KEEP BATTERY TERMINALS CLEAN
Sulphate crystals should be cleaned off using a solution of bicarbonate of soda and water and the terminals cleaned and dried before installation and connection to the vehicle.