As customer interaction continues to shift towards digital platforms, social media offers a great form of free advertising. In this edition of Business Builder, we look at how garages can benefit from using social media to help drive business growth, simply by giving it a bit of time each week.
Whether you choose to focus on one social media platform or multiple platforms, it is important to get the fundamental details for your business on there. This includes full business name, website and contact details – adding these things may seem basic but they are great for SEO (search engine optimisation).
Facebook also has a dedicated section for business hours, so it is important that customers know when they can contact you. You will find these under the 'About' section when editing your Facebook page.
If you want to make social media work for your business, it is key to find the time to keep your page up to date. We recommend creating a content calendar to plan what you want to discuss and draft short posts.
If you are unsure on what content to post, start with the 80-20% rule. Use 80% of your content to inform and entertain your audience and the remaining 20% to sell your brand – this way, you can focus on building a rapport with your audience, keeping them inspired and satisfying the interests of both parties.
When looking to entertain and inform your followers, either create your own content or post links to third party content sites. They can be links such as tips on MOT testing https://mattersoftesting.blog.gov.uk/ or the UK's favourite car programme https://www.topgear.com/. It's entirely up to you what you post, just ensure that it follows the 80% rule to reach maximum engagement potential.
It's important that your audience doesn't feel they're constantly being sold to. By following your page, they gain access to informative content that they're happy to have on their personal feeds.
Don't feel the need to post every day. Focus your time on quality rather than quantity. Your audience will value your content more if you do so and will not expect you to give them something new every day.
By reducing this pressure, you can focus your time on making real, honest, and great content. Customers are more likely to use garages they can trust, so being honest and approachable will help build relationships online too.
When it comes to the content itself, we always recommend publishing a post with an asset, whether this be a video or a still image. If you are feeling creative, try your hand at creating a brand asset. There are some great online tools for businesses to use – for example, canva.com has ready-made templates for social media posts and banners.
It's estimated that 98% of Facebook users access this platform through their mobile device, so bear that in mind for your content too. If an asset is too small for suitable phone viewing, it is likely that your customer is going to struggle to view it too.
The fact that so many users access websites and apps via their phones has increased the demand for swift responses. That's ok, you can manage Facebook, Twitter and Instagram from your mobile. Plus, you can set up automated responses to let customers know you'll get back to them in time.
If you're able to draft more than one post, you can also pre-schedule content on Facebook. On a Business Page, go to 'Creator Studio', and here you will see all of your posts on Facebook and Instagram. You can post content instantly, or schedule it for a time that works better for you or the content.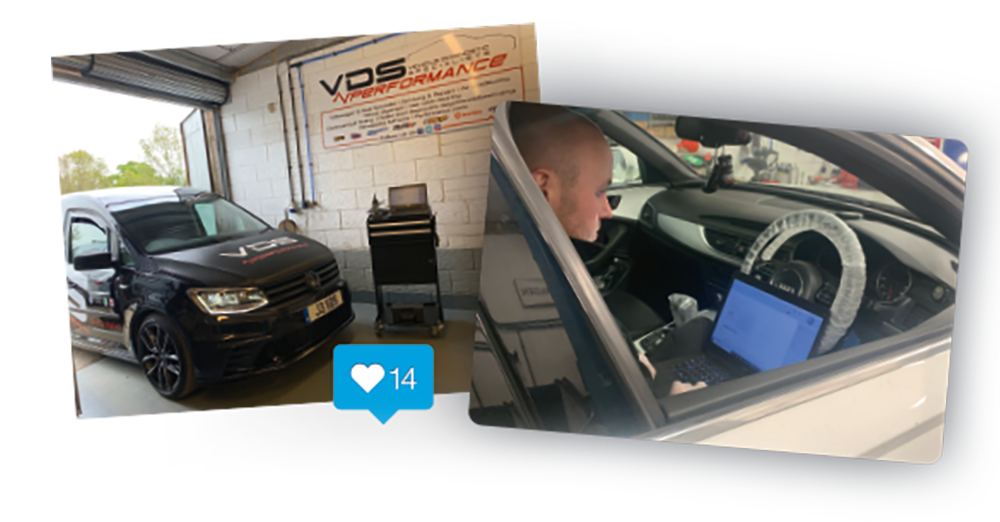 VDS – in tune with social media to boost business performance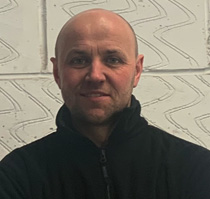 Meet James Etherington, owner of VDS Performance, an independent garage based just outside Redhill, Surrey. VDS offers everything from servicing and repairs to performance upgrades, and specialises in Volkswagen Group vehicles. James discusses how social media provided a platform to turbo boost his business fortunes.
Q: Tell us about your business?
I started VDS Performance back in 2015 having worked for another local specialist for many years. I have always been a Volkswagen Group enthusiast, in fact my first car was a MK1 Golf, and I have specialised in the brand since starting my career some 18 years ago!
Q: How has the pandemic affected your business?
It has been an interesting 12 months, that's for sure. We did experience a pronounced drop in demand and turnover in 2020, particularly during the lockdown period. However, overall, I am very grateful the motor trade was allowed to remain open, as that has kept us going. We also made a few changes to how we operate the business, including reducing the number of customers visiting the site, offering a courtesy collection/delivery service to all customers and wiping down vehicles before and after they have been worked on.
Q: How has social media directly benefited your business?
It's been hugely beneficial. It's amazing sometimes how one post on something can drum up so much interest and it's not always the post you think people will find the most interesting that turns out to be the most popular.
By posting about a job that you have recently completed, it can often lead to several more people enquiring about the same job and ultimately them becoming customers.
Q: What social media platforms are you on and what is so effective about them?
Facebook and Instagram are the two platforms I currently use. It's important to use the right platform for the right type of customer. Facebook generally attracts an older age group, so that's great for day-to-day service and repair work and related posts for the type of customers I target. Instagram is used a lot more by the younger generation, so that's good for the more interesting jobs like the tuning work.
Q: How important is social media in your overall marketing strategy?
Social media is so important nowadays. It has almost overtaken the average website as the initial 'go-to' place to research a company. Previously I would come into work in the morning to find a handful of answerphone messages left overnight, but now I deal with as many enquiries outside of working hours as during the day through social media platforms and private messaging. The use of social media has helped the reach of many businesses, including my own.
Q: Do you plan to expand your social media activity in the next 12 months?
Going forward, I would like to do a bit more on social media, with more regular updates and further info about the business. However, I am happy with where the business is right now.
Q: If so, how does this fit with your overall business plan?
Once we are 'back to normal', the plan is still to expand the business with new premises and staff and that will go hand-in-hand with an increased social media presence.
Q: Without giving too much away, what would be your top tips for businesses looking to use social media?
As with all marketing, it's important to understand what you are trying to achieve and who your target audience is. Conduct an audit to review who your followers are and from what age group etc. I would also advise posting regular, relevant content to engage with your followers and provide links on how they can contact you for further information. It's important to remember you are not necessarily trying to make a sale with every post you make, but each post will help to build brand awareness.